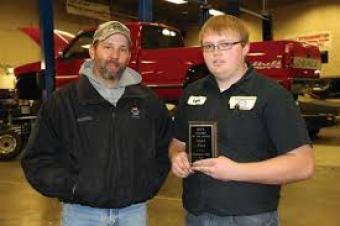 Logan Ward of Atwood and a second year student in the automotive technology program at Northeastern Junior College has been named the NAPA Student of the Month for November.
Ward is on track to earn his Associate of Applied Science Degree in automotive technology this May.
The son of Larry and Shannon Ward, Logan graduated from Merino High School. His interest in engines and hot rods has grown over the years. He grew up around cars and trucks, helping his dad and others tinker with vehicles. He especially likes the engine aspect of automotive technology, figuring out how to make one perform better, increasing efficiencies and speed.
He was selected for the award by instructor Layton Peterman for his performance academically as well as how he completed the various labs that are part of the training in the shop area. For winning, Logan received an engraved plaque and a gift certificate from NAPA Auto and Truck Parts, who has partnered with NJC for more than 20 years on these monthly awards.
View All News
Submit a Story