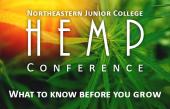 The all-day conference is organized to provide local and regional farmers with essential facts and information they would need to make an informed decision about whether or not to grow hemp for commercial products. The conference includes presentations on basic terminology, the state of the hemp market, legal issues, pest control, harvesting equipment and issues with growing for cannabidiol (CBD) and fiber and grain products.
"We're excited to offer this conference to area growers as an effective way to educate them on the realities of growing hemp," said Andrew Bartlett, Associate Professor of Soil and Crop Science at Northeastern. "The college is not advocating hemp farming by co-sponsoring and hosting the conference, but we feel we'd be remiss if we didn't provide knowledge we believe farmers need about the pros and cons of commercially growing hemp."
"Love it or hate it, hemp poses a genuine market opportunity for Colorado farmers, and appears to be here to stay," said Andrew Schroeder, program coordinator at East Colorado SBDC. "This full-day conference is the last and biggest in a series of seminar-style half-day "Harnessing Hemp" conferences we've organized this month in communities such as Limon, Burlington, Brush and Windsor."
The conference will be held in the ballroom of the Hays Student Center on the Northeastern campus. Walk-in registration begins at 7:30 a.m., and the welcome session starts at 8:30. There are midmorning, lunch and midafternoon breaks, and the conference will wrap up at 6:00 p.m. The cost to attend is $50 per person, which includes lunch and conference materials. The conference agenda, additional information and a link to pre-register are available online at njc.edu/hempconference.
About East Colorado SBDC
The East Colorado Small Business Development Center provides business consulting and training to maximize the economic potential of entrepreneurs in eastern Colorado. Its mission is to help existing and new businesses grow and prosper. It seeks to help emerging and existing entrepreneurs gain control of their business operations by helping clients write comprehensive business plans, conduct financial forecasts, develop marketing tactics, apply for funding, and improve operations. The East Colorado SBDC provides services in 13 counties in Colorado: Adams, Arapahoe, Cheyenne, Elbert, Kit Carson, Lincoln, Logan, Morgan, Phillips, Sedgwick, Washington, Weld, and Yuma. In 2019, the East Colorado SBDC proudly received SBA's Region VIII Award for Small Business Development Center Excellence and Innovation. Region VIII covers Colorado, Montana, North Dakota, South Dakota, Utah, and Wyoming.
About Northeastern
Northeastern Junior College is Colorado's premier two-year residential college. It is part of the Colorado Community College System, and is institutionally accredited by the Higher Learning Commission of the North Central Association. Northeastern offers a wide variety of degree and certificate programs, along with career and technical training and community classes. Northeastern offers four-year degree programs through participating four-year colleges.
View All News
Submit a Story