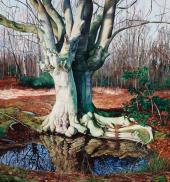 The Peter L. Youngers Fine Arts Gallery in E.S. French Hall at Northeastern Junior College is pleased to present a mixed collection of landscape representations, dream imagery, and intensive observation entitled "Sanctuary." The oil paintings created by artist Ricki Klages include recent as well as retrospective works that span several years of production.
Klages will host an interpretive talk Monday, Nov. 18 from 6-7 p.m. in room 126 of E.S. French Hall.
Klages is a world-renowned artist, and has exhibited her work across the US and Europe. She is the head of the art department at the University of Wyoming. Klages attained her Masters of Fine Arts in 1993 from the University of New Mexico, with a summer residency at the Skowhegan School of Painting and Sculpture.
The exhibit features oil painting inspired by the Epping Forest in England, a landscape notable for retaining the wildness of the last ice age despite being located on the outer part of London. Other featured works include meticulous and highly detailed paintings that combine mysterious settings, still life, and the figure.   
"It is the creation of illusion that I most want to capture in my paintings in addition to a narrative that can take the viewer through intriguing pathways," said Klages. "My paintings reflect the influence of the places I have seen, visited or lived in."
"Santuary" exhibition is scheduled to be on display from Nov. 11 through Dec. 12, 2019. Gallery hours are Monday through Friday, 9:00 a.m. to 4:30 p.m. For additional information, contact gallery director William Ross by email at William.Ross@njc.edu.
View All News
Submit a Story