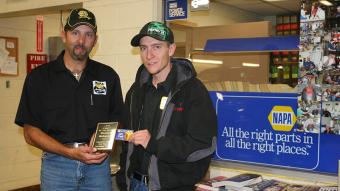 Brendan Mahoney, of Sterling, a student in the Automotive Technology program at Northeastern Junior College, has been selected the NAPA Student of the Month for September.
Mahoney completed the post-secondary auto training program at Northeastern while in high school and is continuing his education in the collegiate program. His plan is to earn an associate's degree in automotive technology and eventually work in a dealership.
This award, presented to one student at Northeastern each month of the school year, may go to any student studying in the post-secondary program, or the collegiate auto tech or diesel technology programs. Students are selected for the award based on their academic performance in the classroom and the lab settings.
NAPA Auto and Truck Parts has presented these monthly awards to NJC students for nearly 20 years. The student receives a $25 gift certificate to the Sterling store.
View All News
Submit a Story