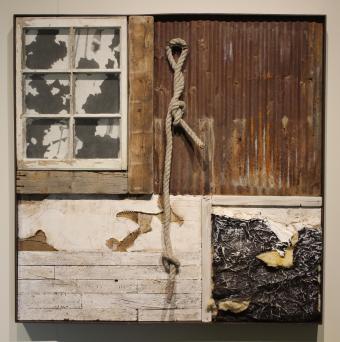 The Peter L. Youngers Fine Arts Gallery in E.S. French Hall at Northeastern Junior College is pleased to present an observational collection of mixed media entitled "The Carissa ­­Gold Mine Project: Rhythm and Resilience." The mixed-media sculptural and two-dimensional assemblages, created by artist Wendy Lemen Bredehoft, were inspired by characteristics of the Carissa Gold Mine in South Pass City, Wyo.
Bredehoft will host an interpretive talk Monday, Oct. 14 from 6-7 p.m. in the atrium of E.S. French Hall.
Bredehoft, who was awarded a 2019 Wyoming Visual Art Fellowship and a 2016 Wyoming Visual Art Fellowship Honorable Mention, has an international exhibition record with artwork on display in public and private collections in the U.S. and Canada. She attained a master of fine art in visual arts from Vermont College, and a bachelor of arts in visual arts from the University of Wyoming.
The exhibit features sculptures and assemblages using combinations of materials – reclaimed, found, new and altered – to create images that don't mimic, but convey perceptions of the challenges workers in the mine faced every day.
"I approach art making as an investigative process requiring patient observation of my environment, constant exploration of materials and continuing creative practice," Bredehoft explained. "I use a variety of materials to accomplish my intentions and pursue subjects from multiple viewpoints, at different times and with evolved insights."
"The Carissa Gold Mine Project: Rhythm and Resilience" exhibition is scheduled to be on display from Oct. 12 through Nov. 7, 2019. Gallery hours are Monday through Friday, 9:00 a.m. to 4:30 p.m. For additional information, contact Professor William Ross by email at William.Ross@njc.edu.
View All News
Submit a Story