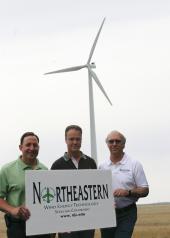 For the past six months, Kent Wright has fielded a half dozen calls a week into his office on campus from students inquiring about the new wind technology training program rumored to be opening at Northeastern Junior College sometime soon.
When will it open? How soon can I be trained?  Will I be guaranteed a job when I finish the classes? Wright, who oversees the technical training programs at NJC, tried to answer the questions best he could—taking down the names of students who wanted to be contacted if and when the program opens.
The interest in wind technology training has been strong. Wright and others are proud to start spreading the word that, after nearly 18 months of preparation, it's not just a bunch of hot air. A wind energy technician training program will begin this August at NJC. It is the first program of its kind to open in Colorado. The program's curriculum has been approved at the state level. Funding has been secured. Facilities have been identified. A teacher has been hired. Students are being recruited. 
"Logan County is now home to one of the biggest wind tower farms in the country," notes Dr. Lance Bolton, president of the college, referring to the spread of towers that reach out all directions from Peetz. That field is now nine miles deep and 44 miles wide and represents an investment of more than a billion dollars. A second large farm will be put in near Fleming in the next few years.
 "Several of these wind energy companies have invested hugely in Logan County and they have told us that they need trained technicians. They want trained, local technicians. It's much more efficient for them and it's just good business," Bolton said, giving emphasis to the word local.
For the last two years, as several new wind turbine towers began popping up in the north part of the county on a weekly basis, it became very clear to the administration at NJC that there was significant opportunity for the college to expand its career and technical training department by opening a wind tower technician training program. During this time, representatives from the wind industry stepped up and asked for a local training program, and even offered to help fund it. Between private industry contributions and a grant from the Department of Local Affairs, nearly $900,000 has been raised to help pay for the opening of this new program. A number of wind energy company officials are serving on an advisory board for the NJC program and they have been very instrumental in setting up the curriculum.  The curriculum is still undergoing some minor tweaking by the advisory committee and then it will be submitted to the Colorado Community College System office for final approval.
Bolton said that the new program is going to be a two-year degree program, not just an accelerated training situation. "The companies who have invested here have made it very clear that they would like NJC's training to be of the caliber that will create the kind of individuals who have potential to move into management and supervisory positions, employees who will be successful with these companies on a long term basis." Based on this, students will be getting the technical expertise they need to work on the towers, but they will also be taking degree level classes that will make them well-rounded individuals who know how to write well, speak well and work with numbers among other skills. 
Bolton is quick to clarify that the wind technology training center that is being created by NJC will also have some flexibility. "If, for example, we would have a group of trained military veterans come here,  we could possibly run an accelerated training program and have these students be able to move into wind tower technician jobs within a few months."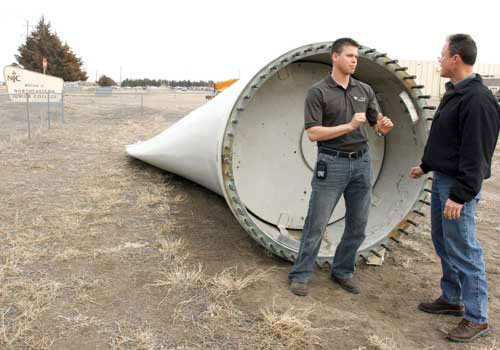 NJC does offer a variety of ways for a student to move through this program more than quickly than usual. Credit for degree level classes already taken at NJC for another area of study can most likely be applied to this degree and credit for prior learning can be evaluated. For example, someone who has worked for several years as an electrician or a lineman might be able to substitute real life experience for classroom credits.
The training program will operate from the college's north campus facility located on Pioneer Road. Neil Browne, a former Sterling High School teacher who specialized in industrial technology, who has spent the last year as a lead technician for GE, doing warranty service repair on the 1.5 megawatt turbines, owned by NextERA (formerly Florida Power and Light) has been hired to run the local program.  The program will take 20 students initially and registration for classes will take place in July, according to Wright. Area companies, who have farms located here have offered to provide training tools, field locations for students to get hands-on skills, guest presenters and internships.
Starting wages for trained technicians vary, but average just over $18 per hour. Even so, turnover in the industry has been significant, one study stating that only about 20 percent of the technicians stay on the job. "This happens for several reasons," according to Bolton. "First, there is such a shortage of technicians so they constantly have other job opportunities and move around quite a bit. Secondly, working 300 feet above the ground is not for everyone"  But thirdly, and more importantly, according to Bolton, "many of these technicians come from urban areas and they get sent out to a rural area, where most of the towers are being placed coincidentally, and they just can't adjust to the rural culture. So, if we can train our rural people, who are already here and love the lifestyle, to work on and maintain the wind towers, it's a total win win situation for everyone involved.
The two year program will cover numerous technical electronics courses as well as training in programmable logic controllers, basic fluid power, airfoils and composites, power distribution and control systems, and maintenance welding and power mechanics. The two-year associate of applied science degree will require completion of 60 credits. "We will make sure these students are out on a tower very early in the training, up in the air, able to know what the work conditions will be and to be able to determine whether or not they think they will be able to be in the height environment on an ongoing basis," Bolton said.
The American Wind Energy Association says that wind turbine towers have been popping up on the U.S. landscape at a rate of almost 10 per day.  The need for people to maintain and repair them is reaching the critical point. Last year, 3,200 new wind turbines were installed across the nation as power companies responded to the push for more green energy. It brought the total number of towers with wind-catching blades to more than 25,000, the association said. In 2008 wind provided only 1.2 percent of the electrical needs in this country—enough to power about 1.5 million homes. However, because wind is the cheapest renewable resource available, it is the fastest-growing market in the world right now.
NextERA, which has invested heavily in Logan County by putting in several hundred towers in the Peetz area, has more than 7,600 wind towers in 16 states. Its field staff numbers about 500, and the majority of them are technicians. The tower structures vary in size and energy output, but as a general rule, a two-person operation and maintenance team is needed for every 10 turbines.
Students wishing to get more information on this new training program may call Neil Browne at (970) 521-6740. Registration of students will take place in July prior to the start of fall classes on August 25th. Cost of the program will be the standard per credit cost per semester for in-state students who have applied for the Colorado Opportunity Fund (COF). Some of the more technical programs which are more expensive to teach may have additional fees. Students who qualify for financial aid or scholarships may use these funds to pay for this program. 
View All News
Submit a Story