Participating in highly regarded, historical pinning ceremony, graduates chose a significant friend or family member to do the honors of placing the pin on their collars for this special occasion. The pinning was followed with the presentation of a symbolic yellow rose, hugs and best wishes from the nursing faculty.
The nursing graduates were address by Elizabeth Gardiner, RN Senior Manager-Emergency and Trauma Services at Sterling Regional Medical Center, she gave words of encouragement and advice to the graduates entering into the workforce. "Medicine is always advancing and is never stagnant, be flexible, remain positive," said Elizabeth. "Having a positive attitude and remaining open minded will help guide you in having a beneficial and rewarding career."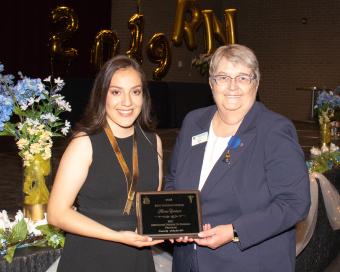 During the ceremony, Mirna Cordero, was honored with the coveted Best Bedside Nurse award, presented each year by the Lions Club of Sterling. This award is very special as the recipient is chosen by the nursing faculty who work with the students in the clinical setting. This individual is awarded for demonstrating the best patient care and compassion while being trained as a nurse.
The Highest Academic Average award, presented by the Rotary Club of Sterling, went to Carly Orth, who earned a 4.0 GPA while in the nursing program.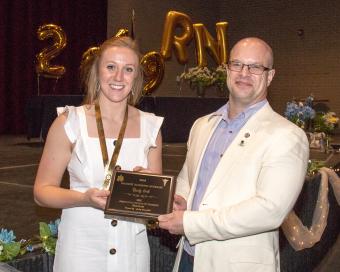 Graduates in the 2019 Associate Degree of Nursing include: Vanessa Bergner of Sterling, Colo., Stephanie Bevel of Sterling, Colo., Sierra Blochowitz of Julesburg, Colo., Cassandra Chappell of Holyoke, Colo., Mirna Cordero of Sterling, Colo., Dana Fleckenstein of Sterling, Colo., Staci Foos of Holyoke, Colo., Abbie Hurst of Lovell, Wyo., Elizabeth Krise-Thompson of Yuma, Colo., Dania Morales of Holyoke, Colo., R. Brooke Muirbeid of Yuma, Colo., Oluwafolakemi Lakanu-Kazzim of Denver, Colo., Krystle Magana of Julesburg, Colo., Christina Ortega of Holyoke, Colo., Carly Orth of Julesburg, Colo., Valerie Ramirez of Snyder, Colo., Rajsha Sanchez of Sterling, Colo., Elisa Taisarsky of Littleton, Colo., Leigha Terry of Julesburg, Colo., Victoria Vineyard of Sterling, Colo., Miranda Wiebers of Merino, Colo., and Bryan Zerr of Colorado Springs, Colo.
View All News
Submit a Story