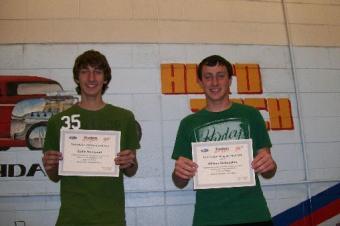 This year, 198 of the best and brightest 11th or 12th grade auto technology students from high schools all over Colorado took the state qualifying exam, seeking the honor of being one of the ten, two-person teams to qualify to compete in the Colorado Skills USA Ford Motor Company's AAA contest. Only twenty students in each state earn the right to compete in this contest. It was two students in Northeastern Junior College's secondary automotive technology program who had the very top scores on the exam and are now preparing for the Colorado competition.
Will Richendifer, a senior at Sterling High School, took first place and Collin Brungardt, also a senior at Sterling, took second place. Both students will now participate in the hands-on team competition in Denver on May 11 and 12.
In this "hands-on" competition, new Ford Motor Company vehicles will be uniformly "bugged" so that each team has identical malfunctions to diagnose and repair. The competition requires proper diagnosis and repairs to be made with the highest quality workmanship in the lowest total time. The winning two-person team from each state and their instructor are provided expense-paid trips (paid by Ford & AAA) to the national finals in June 2012 in addition to thousands of dollars in tools and in scholarship offers.
Richard Moon is the instructor and program coordinator for the secondary automotive program at NJC. The secondary program allows high school students from this area to spend a certain number of hours per week in a career technical training program, in this case, automotive technology, at the college's facility on north campus. The program is a collaboration of the area high schools, NJC and BOCES.
View All News
Submit a Story