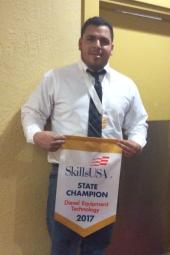 Northeastern Junior College (NJC) Diesel Technology and Secondary Auto Technology students recently competed at the Skills USA Colorado State Leadership and Skills competition April 5-7 at Pikes Peak Community College. The students took part in hands-on challenges to test their knowledge and skills in auto, diesel and leadership against students from across Colorado.
Sophomore Abdul Ibrihim, rose above and beyond in the diesel technology section of the competition, winning the State Champion award in Diesel Technology. He will compete at the national competition in June in Louisville, KY. "I am very proud of Abdul for placing first at state," Jimmy Atencio, NJC Diesel Technology Instructor. Ibrihim is the fourth person in five years to have received a top award as part of the NJC Diesel Technology program.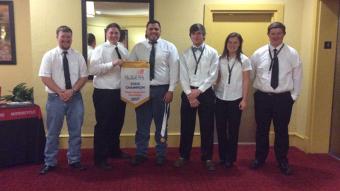 The NJC Secondary Auto Technology students did a fine job as well. Allan Polly placed 12th, Kaitlynn Prelle placed 18th and Dylan Prelle placed 21st, the secondary competition was comprised of 36 students from high schools across Colorado. NJC is very excited to have Allan and Dylan on campus in the fall, and Kaitlynn will be the Secondary Auto Tech Club president for 2017-2018 school year and is looking forward to competing as a senior next year.
"We are very happy with all the students they learned a lot from the contest," Richard Moon, NJC Auto Technology Secondary Instructor.
View All News
Submit a Story