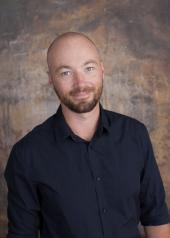 William is an engaging instructor who combines classroom technology, the iPad, audio and hands-on activities with his stellar knowledge of art to create an exciting classroom. He challenges his students with in-depth curriculum that keeps them focused and interested, and as a result, they work hard for him.
This past year William redesigned class projects and rubrics to be more practical and comprehensive. His teaching style is student focused to ensure they understand the concepts of the media before they start working on projects. William is also very active serving on different committees at Northeastern and within the local community.
William received a Master's of Fine Arts in 2014 from New Mexico State University and was awarded a Bachelor's of Arts in Social Studies Education in 2003 and Bachelor's of Fine Arts in 2010 from the University of Wyoming.
To be nominated for the Star Performer award the faculty member must be employed with Northeastern full-time for 1-year and still within their provisional period (first 2 to 3 years of employment at Northeastern.)
View All News
Submit a Story