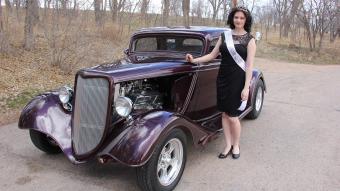 Members of the Northeastern Junior College Auto Techs Club have been busy for weeks now pulling together the annual Auto Show which will take place this weekend, April 5 and 6, at the college's North Campus. The entries have been collected, the shop is being cleaned out and ready for move-in and the queen has been crowned.
This year's royalty honors go Darrien Allison, a freshmen elementary education major from Flagler, who was chosen by the club to wear this year's sash and crown. Allison, who says her only other experience as a queen was being a prom queen, is excited about her role in this year's event. She will be at the show to greet the crowd and will be helping hand out trophies on Sunday at 3 p.m. during the awards presentation.
"I'm really excited about just seeing the people who come to the event," Allison said. "My grandpa who lives in Arizona has always done some of this kind of thing, taking old cars and restoring them and showing them at shows. I am just amazed at how beautiful they are and how detailed the craftsmanship is to make them back how they were."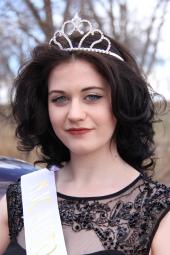 This year's queen, who prefers to just be called "D," was encouraged by some of the Auto Techs Club members to apply to be the queen this year. Since coming to Northeastern, she's been active in the theatre department's improv group and she has a role in this weekend's college play, "Almost, Maine" which will be performed on April 4, 5 and 6 at the Dorothy J. Corsberg Theatre in E.S. French Hall. She was inducted into the Phi Theta Kappa Chapter honor society on campus this past Sunday evening. D plans to continue her education at University of Northern Colorado when she is done at Northeastern.
The Auto Show will open at 10 a.m. on Saturday morning and will continue until 9 p.m., reopening again on Sunday morning at 10 a.m. and closing at 3 p.m. with an awards presentation at 3 on Sunday. Cost of the event is $3 for adults and $1 for children age 12 and under.
This year's show, which happens at 318 Hagen St. on the college's North Campus, will also feature a model car show and a toy show which is being put on by the college's Diesel Power Club. The Diesel Power Club will also be running concessions at the dual shows. Unlike past years, this year the students sought out some sponsors for the event. S and S Auto, Wolf Auto and EB Autos all put some resources toward the event and are helping finance this long-running show.
Spectators should expect to see some beautiful vintage cars as well as some brand new models. There will be classics, street rods, hot rods. Every year there tends to be something that hasn't been on display before. Those who attend are asked to vote for the car they think should win and a People's Choice Award is presented at the end of the event.
An NJC baseball game will be taking place on both Saturday and Sunday afternoons when the Plainsmen take on Otero Junior College. Plainsman Park, where the field is located, is adjacent to the automotive technology building where the auto show happens. With play productions taking place on the main campus at 7 p.m. on Friday and Saturday evenings, April 4 and 5, and a matinee at 3 p.m. on Sunday and the auto show and baseball happening out on Pioneer Road, there's no reason why you shouldn't come in contact with Northeastern and its students sometime this weekend during all of these events that are open to the public.
View All News
Submit a Story