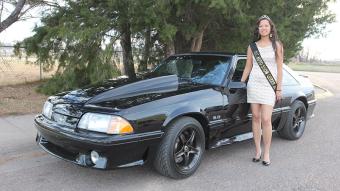 The shop floors are being swept, the class projects moved out and room is being made for the nearly five dozen vehicles that will be part of the 2016 Northeastern Junior College Auto Tech Club's NJC Auto Show. This year's event, being held this weekend on the college's North Campus, has several new elements sure to up the entertainment value.
Held on both Saturday and Sunday, this year's show, in addition to the life size cars, trucks and motorcycles, will also feature a model car show, a die cast car and equipment show, and a new gravity car show complete with racing. This is the second year for the die cast category to be on display, but the first year for the gravity car competition. The Auto Tech's Club has built an impressive gravity racing track and showcased it at an on-campus even last semester.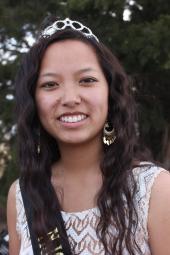 This year's queen is Nichole Fischer, a sophomore agriculture education major from Windsor. She will be at the event, greeting the public and handing out the trophies on Sunday afternoon at the 3 p.m. awards ceremony.
Fischer is excited about the show for several reasons. She has never been a queen before and so this new opportunity is one she plans to enjoy. She is very active at Northeastern and first attended here in the fall of 2013. After the 2013-2014 school year, she ran for, and was elected to a Colorado State FFA officer position, an Executive Committee Member. She sat out the 2014-2015 school year to do her duties for that position, traveling the state to help provide leadership to one of Colorado's largest youth organizations. In the fall of 2015, she returned to Northeastern to complete her associate's degree. She plans to transfer to Colorado State University this coming fall.
If you go to the show, take time to visit with Fischer. Born in China, she was adopted by her American family when she was just an infant.
On campus, Fischer is a member of the Aggies, the Honors program, Phi Theta Kappa, collegiate Farm Bureau, is a leader for the Crossroads group on campus, is a resident assistant in Herbie Hall and also serves as a tutor in the Comprehensive Learning Center. She was recently selected a Rising Star Award recipient at Northeastern, a recognition given to the very top students on campus who show outstanding academic and leadership performance.
This week Fischer met up with one of the brand new entries to this year's show for a photo opportunity. She admits she doesn't know a lot about cars and she personally drives a silver Saturn Ion, which she describes as not being very nice. "My grandpa has a '54 black Grant Prix and I love that car," she says, admitting that she hopes to use this weekend's event to learn a little more about the various cars. Her photo was taken with a '92 Ford Mustang GT owned by Tim Olson. Olson, who is a lab assistant for both the auto and diesel technology programs at Northeastern, will show this car off for the first time. Olson grew up in Haxtun and went to NJC in 1989-1991 to study automotive technology. He just retired from the Air Force after 23 years, has a car with quite a story behind it.
The '92 Ford Mustang only has 5,945 original miles on it. The car was originally purchased by a man from England and was shipped over the ocean to him back in '92. He sold it to another man from England who reshipped it to the United States to have some special features put on the car. It was then shipped back to England. A few years later, it was sold to a Brit, living in England. Olson acquired the car several years later when he was stationed in England and his wife found it and purchased it for him for his birthday. He then shipped it home to the United States when he returned here. In all actuality, this car has gone almost twice as many miles on a ship as it has been driven on land.
Olson has done additional work to the car since he acquired it. It has a super charged five lug conversion, after market suspension and all kinds of other bells and whistles. From the tip of the front bumper to the rear end, it has been modified. It's a beauty and as Olson says, "It's fast, real fast!"
Ironically, Olden had another '92 Mustang just like it that he planned to restore when he was stationed in Denver. However, it was stolen from his home in 2005 and was never recovered. Olson has some other cars he's working on, but he will only have one in this year's show.
In addition to the weekend auto show, the NJC Diesel Tech's Club will be doing their Toy Show on Saturday only from 10 a.m. to 5 p.m. in a building adjacent to the auto show. A late addition to this year's show is a Big Diesel Show and Shine that is being promoted for Saturday morning. Anyone who wants to bring a big diesel vehicle to show off may pay $10 for a spot in the lineup, beginning at 8 a.m. on Saturday morning. You should be there and get your entry in by 9:30 p.m. Entries will compete for trophies and prizes. Anyone wanting for information on this special addition to the show may call Jimmy Atencio at 521-6692.
The Auto Show runs 10 a.m. to 8 p.m. on Saturday and 10 a.m. to 3 p.m. on Sunday. Cost is $3 for adults and $1 for children 12 and under. NJC students, faculty and staff are admitted free with current ID cards. Everyone who attends is asked to help choose the People's Choice Award, so be sure and vote while you're viewing the show.
The NJC Auto Show will be held at North Campus off Pioneer Road at 318 Hagan St.
View All News
Submit a Story