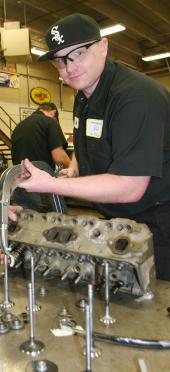 Theo Sobott of Sterling, a freshman in the Automotive Technology program at Northeastern Junior College, has been selected the NAPA Student of the Month for February 2012. Each month a student in one of the automotive or diesel technology programs at the college is chosen for this award. The recipient is selected by the faculty in the department based on their academic performance and the activity and attitude they exhibit in the weekly lab work component of the training.
Sobott, the son of Barb Sobott, has always had an interest in cars, but never really had any hands-on work opportunities until he started the college program. He has an interest in muscle cars and is especially intrigued by the electronic and audio aspects of the automotive industry.
Sobott plans to complete his training at NJC and to open his own shop eventually. He likes rebuilding engines and says that learning the machining that goes along with this has been especially fascinating. NJC is one of only a few automotive technology programs that still offers the machining training as part of the curriculum.
For winning the award, Sobott received an engraved plaque and a gift certificate from NAPA Auto and Truck Parts in Sterling who has sponsored this award program for nearly two decades.
View All News
Submit a Story