The shop floors are being swept and the bright colored banners and balloons strung from the top of the rafters. The Northeastern Junior College Auto Techs Club is geared up for another great auto show this weekend.
For nearly 20 years now, the NJC students have worked as a team to pull together one of the best auto shows to take place in Colorado and 2011 is no exception. The event takes place thisweekend, March 26-27 at the automotive technology facility located on the college's north campus, just off Pioneer Road.
Each year a group of favorite cars always return to the floor to wow those who are attending the event for the first time. This year, those who have been faithful fans of the event will also be treated to a selection of inliner cars being brought to Sterling by a Denver Inliners International group. 
Inliners International was founded in 1981 by four people who shared the love of inline engines. It was their desire to form a club that would bring other inline lovers together so they could share their experiences with these unique, sometimes forgotten engines. There are affiliated groups all over the world now. Initially, the club devoted itself almost exclusively to the 216/235/261 Chevys and the 248/270/302 GMC's. Today, the club has a much broader appeal and welcomes fans of four, six or eight cylinder inline engines of all makes.
Inliners International of  Denver has a special tie to NJC. One of the charter members of the organization, Joe Umphenour, was a faithful exhibitor at the Sterling show for many years and even provided disc jockey services for the students. When Umphenour passed away this last year, he named the NJC Automotive Technology Club as the recipient of any memorial proceeds donated in his memory. His fellow Inliners International members from Denver will be bringing cars to Sterling for this year's show in Umphenour's memory.
In addition to the beautiful array of hot rods and classics that will be on display at the event, there will be a model car show which puts the spotlight on the artistic talent of area residents age 6 to 60.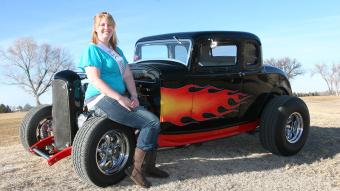 Lauren Hegstrom of Arvada has been selected the 2011 Northeastern Junior College Auto Show Queen. Wearing a tiara generously donated by Rominger Jewelry and Gifts  through the Jewelers of America, an association of jewelry retailers based in New York to which Rominger belongs, Hegstrom will be helping welcome guests to the show and will be handing out awards on Sunday.
Hegstrom, a sophomore who plans to major in psychology and minor in equine management, hopes to one day work in some type of equine therapy program. She is a resident assistant in Poole Hall on campus and is active in the college's Peer Helper and Associated Student Government organizations. She has always enjoyed cars and took a two-year training program in high school which allowed her to learn basic skills related to vehicle maintenance and repair. She says that she has, for the most part, done all the upkeep of her own vehicle since receiving the training. She looks forward to what she considers automotive eye candy and will be checking out all the entries.
The auto show runs Saturday 10 a.m. to 9 p.m. and Sunday 10 a.m. to 3 p.m., with an awards ceremony taking place right at 3 p.m. The public is asked to vote for their choice of winners in various categories. The exhibitors vote among themselves for best of show and then some special awards are presented. Umphenour's wife, Bev, will be on hand to personally pick a special winner of an award to be given in her late husband's name.
Cost of admission is $2 for adults and children 12 and under get in free. All proceeds go to the Auto Techs Club.
On Saturday only, right next door to the auto show will be a toy show sponsored by the NJC Diesel Techs Club. It will run from 9 a.m. to 4 p.m. Admission to this show, which will feature a wide array of unique, unusual and best loved toys for purchase, will be $1 at the door. The toy show has been held for a number of years and always includes some special surprises for toy lovers, old and young.
The NJC clubs hold these events for two reasons. First, all clubs on campus are encouraged to do activities that allow them to interact with the larger northeastern Colorado community.
View All News
Submit a Story