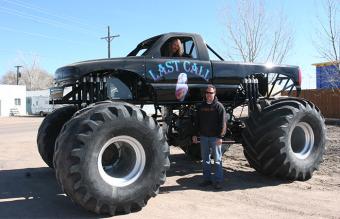 While "Last Call" makes an appearance here in Sterling, a whole slew of other monster trucks will converge on Las Vegas for the Monster Jam World Finals at Sam Boyd Stadium, also being held this weekend. Bartholomew will be following what's happening in Vegas closely as he has aspirations of one day being invited to participate at the highest profile monster truck event in the country.

Speaking of high profiles, this home-grown monster truck stands just over 11 feet tall and is almost thirteen feet wide. It is the work of Bartholomew, who admits to being a 'gear head' all of his life and who has spent seven years putting the truck together.

 "I started building the truck in 2000 and finished it in 2007," Bartholomew explains, "and while it looks done, it's not quite done yet." He goes on to explain that it needs some additional expensive safety equipment put on it before he will be able to actually start taking it on the show circuit.

 The names of other monster trucks, their drivers and their winning histories roll off of Bartholomew's tongue like good oil pumps through a high performance engine. He knows many in the monster truck business and he follows the shows, the drivers and truck standings throughout the year. He's all too familiar with Ninja Turtle and Gravedigger, Bounty Hunter, Captain's Curse, Cyclops and Scarlet Bandit among others.

 "My truck has all the same parts that most of these trucks have, I just haven't gotten all the safety stuff onto it yet," he said. It's a matter of cost and time. He hopes to be able to get the safety equipment before too much longer and find time to get it installed. He isn't allowed to compete in the Monster Truck endorsed shows until he has the safety equipment on his truck.

 Sam works full-time for a local agriculture cooperative and you often see him crossing town in one of the fertilizer application units. He feels at home when he drives one of these large, insect looking vehicles. They put him up in the air, much like the monster truck does. Those who know Sam usually associate him with long hair and big wheels, two of his long-time trademarks. "I was putting big wheels on all kinds of things before I put them on this," he laughs.

Building a monster truck takes quite an investment. There are eight shocks on the truck—all 26 inch nitrogen Race Source Inc. brand and each cost $1,000 a piece. "It's really more about engineering than anything else," he explains, noting that building the truck took him as long as it did because he was researching and learning as he went along. Last Call, named after his years working in emergency medical services doing ambulance runs, has a wheelie bar on the back, has crabwalk rear steering so it can do the really tight corner donuts that monster trucks are famous for. These are all the same features you see on the monster trucks that are driven by the pros.

Last Call has a 472 cubic inch Chevy engine with a turbo 400 transmission. The chassis is custom made using Drawn Over Mandrel (DOM) tube. The axles are Clark Planetaries. The 2002 Chevy body, composed of a 5-part fiberglass system, sits atop four 66 x 43 x 25 Good Year tires. Each tire weighs an impressive 750 pounds and is five feet tall and 43inches wide.   It can cover the ground at speeds as high as 60 miles per hour.  Getting the monster into a traveling truck or a garage is a process in itself, requiring that the big tires be removed and replaced with small tires so that it will fit inside. Bartholomew admits that he only gets it out where it can be seen for special events, like this weekend's auto show. He hopes to eventually also build a ride truck. This is a monster truck that is engineered to include seating in the bed for 10 spectators to climb on board and take a trip.

According to Bartholomew, his Last Call truck has made a few appearances in this area, participating in monster truck events held at the fairgrounds in the past. It has been put out for display in the past, but not since 2007. NJC's annual auto show will be an opportunity for monster truck fans to get a first, or another look at this showstopper. The show will be held in the automotive technology teaching center located on the college's North Campus, out on Pioneer Road. The show will run Saturday, March 27th from 10 a.m. to 9 p.m. and Sunday, March 29th from 10 a.m. to 3 p.m. An awards ceremony will take place at 3 p.m. on Sunday. Spectators are asked to vote on various categories while viewing the vehicles. Cost for the show is $1 for those age 12 and under and $2 for older spectators. In addition to this monster truck, those who attend will be a large selection of all kinds of hot rod and classic cars and trucks, some motorcycles and the bus that was here last year. There is also a model car show that takes place in the building.

In addition to the auto show, the secondary auto program at NJC will also be holding an event this weekend. On Friday night the high school students will be holding an all-you-can-eat pancake dinner from 5 p.m. to 7:30 p.m. The students, who are members of the SkillsUSA/VICA organization, will be raising money to help pay the costs associated with running their two race cars on the track this spring and summer. The members will also be auctioned off during the event. If you have a spring project that is going to require some extra help, take advantage of this opportunity to support a great cause and put a student to work.  Cost of the pancake dinner will be $5 for adults and $3 for those age 10 and under.
View All News
Submit a Story