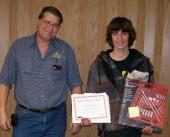 Collin Brungardt and William Richendifer of Sterling High School placed second and third respectively in the USA Skills District III auto mechanics competition held at Northeastern Junior College this last week. Both are students enrolled in the college's secondary automobile technology program which is a partnership between the college and area high schools to provide technical training to high school students. Nicholas Smith, a student from Morgan Community College won first place. The top three winners advance to the state competition which will be held in Denver in April. SkillsUSA was originally known as the Vocational Industrial Clubs of America (VICA).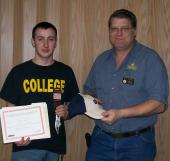 For the competition, students in both the post-secondary program and the secondary program (collegiate program) are sent to different stations at which they have to complete an automotive task. They are timed and then the quality of their work is also evaluated and scored. The competition was held this year between NJC and MCC and included 19 students demonstrating various skill levels.
Sponsors of the event were NAPA Auto and Truck Parts, CarQuest and O'Reilly. NAPA also donated two tool boxes full of tools to the NJC program. The first place winners in each category received ratchet sets and other winners received wrenches, hats and gloves.
View All News
Submit a Story