An awards luncheon for the recipients was held in the E.S. French Hall Atrium, and they were later introduced to spectators at the halftime ceremony of the Plainsmen's basketball game against North Platte Community College.
Pathfinder Awards
This year's Pathfinder Award recipients – are Northeastern alumni honored for making outstanding contributions in their field of endeavor – this year's honorees are Mr. Roy Edwards and Dr. Lynn Kennedy.
Mr. Edwards, Pathfinder Award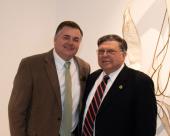 Roy Edwards is the eldest son of legendary Northeastern basketball coach Roy Edwards and his wife Ann. At Northeastern Roy was the team trainer for his father's basketball program. He graduated from Northeastern in 1967, and transferred to the University of Colorado as a pre-med student.
After graduation from CU in 1970, Roy was drafted in to the U.S. Army as a private with a commitment to attend Offer Candidate School at Fort Benning, Ga. He completed Infantry OCS School in 1971, and over the next two decades, completed tours of duty in South Korea, El Salvador, Europe and eventually Iraq (both Desert Shield and Desert Storm). In Iraq, he commanded 650 soldiers, including 115 women, and returned to the U.S. without the loss of a single in his command.
In 1992, Roy attended Harvard University's John F. Kennedy School of Government to study international relations. Upon completion, he was promoted to a rank of full colonel, and assigned to work under General Colin Powell at the Pentagon. After three years, he accepted an opportunity to lead a $100M program at the Defense Advanced Research Projects Agency (DARPA), where he was the program manager for a project involving a newly-developed unmanned aerial vehicle. In 1997, he retired from the military and joined Scitor Corporation, a tech company that supported military and government agencies.
Dr. Kennedy, Pathfinder Award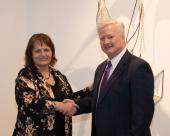 Dr. Lynn Kennedy grew up on an irrigated cow-calf operation near Pierce, Colo. and is still involved with the family farm. He was a leader at Northeastern serving as the president of Associated Student Government his sophomore year, along with being active in the Aggies Club and Phi Theta Kappa Honor Society. Lynn graduated from Northeastern in 1984, and transferred to Colorado State University.  While attending CSU he served as president of the AG Council, was a senator of Associated Students, and served as President Pro Tempore. Lynn was the membership chairman of Farm House Fraternity and a member of both the Phi Kappa Phi and Golden Key honor societies.  He was named an outstanding senior in CSU's Agricultural and Natural Resource Economics department.
Upon graduation from CSU in 1987, Lynn became a Rotary Foundation Graduate Scholar at the University of Oxford in Oxford, England. He received a Master of Science Degree in Agricultural Economics in 1988 then worked as a sales associate for Con Agra Red Meats in Greeley from 1988 to 1990. From 1990 to 1994, Lynn was a research and teaching assistant at the University of Minnesota's Department of Agricultural and Applied Economics. In 1994, he received his Doctorate in Agricultural and Applied Economics from the U of M.
Dr. Kennedy has since served the past 25 years in leadership roles at Louisiana State University. He was an Assistant Professor in Agricultural Economics from 1994 to 1999, Associate Professor in Agricultural Economics and Agribusiness from 1999 to 2003.  He was the William H. Alexander Endowed Regents Professor of Agricultural Economics and Agribusiness from 2002 to 2005. During the summers of 1995, 1996 and 1997 he was a visiting assistant professor at Humbolt University in Berlin, Germany on a research project and taught an intensive two-week course on international agricultural trade. He has been a professor of Agricultural Economics and Agribusiness since 2003. Lynn has been the Crescent City Tigers Alumni Association Professor from 2006 to the present. This Alumni Professorship is funded through an endowment created by the New Orleans chapter of the LSU Alumni Association in recognition of outstanding teaching.
Dr. Kennedy has raised about $1.8 million dollars in research grants to LSU. He is a recipient of the LSU Distinguished Faculty Award, and has been named the Louisiana State University Rain maker since 2008, honored as one of the top 100 research and creative faculty at the university.
Service Awards
Northeastern Alumni Association Service Awards go to active members of the association who have performed outstanding service toward the goals and accomplishments of the association through significant contributions of time and work. The service award recipients this year are Dr. Ray Kilmer and Mr. Bob Carpio.
Dr. Kilmer, Service Award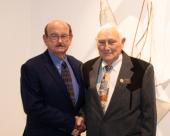 Dr. Ray Kilmer served on the association's Board of Directors from 2012 to 2018, serving as vice president and president of the board. He received the Pathfinder Award in 2007.
Ray was born and raised on a farm his father homesteaded between Willard and Stoneham. He graduated from Stoneham High School as valedictorian in 1955 and received an honor scholarship to attend Northeastern; graduating with an Associate of Arts degree in 1957.
Ray is a recipient of the Frances Smith Award presented to a student most likely to contribute to education. He was a member of Phi Theta Kappa and the college choir. He transferred to Colorado State College of Education in Greeley, which later became the University of Northern Colorado. He received his bachelor's degree in 1959. Ray began his career as a junior high teacher at New Raymer School.
In 1960, he was named superintendent of the Stoneham School District and served in that role until 1964. In 1963, he became superintendent of the Prairie School District, which included the New Raymer and Stoneham communities.
Kilmer earned his master's degree in educational administration from Colorado State College in 1963. He resigned as Prairie Superintendent in 1971, and completed his doctorate in educational administration from the University of Northern Colorado in 1973. He served as Superintendent of the Lewis Palmer School District in Monument from 1973 to 1987. Dr. Kilmer became Deputy Commissioner and Acting Commissioner of the Colorado Department of Education over a period of two years. He then served as business manager for the Cheyenne Mountain School District in Colorado Springs for a year, and then as the executive director of the Pikes Peak BOCES for the next four years. He oversaw special education and federal programs, cooperative purchasing and staff development for 15 member districts.
From 1993 to 1996, he served as adjunct professor at the University of Colorado Colorado Springs teaching school finance courses. He also has been a consultant to school districts, BOCES and the Commission on Higher Education. He has also assisted the Colorado Association of School Executives in analyzing proposed school reform legislation. From 2001 to 2005, he served as part-time Executive Director of the Colorado BOCES Association. He served as President-Elect, and then President of the Department of General Administrators (Superintendents) from 1983-85, President of the Colorado Association of School Executives in 1984-85.
Mr. Carpio, Service Award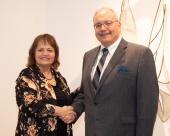 Bob Carpio grew up on a dairy farm near Gill, Colo. His parents were both children of immigrants from Mexico. His upbringing instilled the strong work ethic that remains evident in his work today. He attended primary and secondary schools in Kersey, and graduated in 1974.
Bob was an outstanding student at Northeastern. He participated in Aggies Club, Phi Theta Kappa Honor Society, the Pep Band and played drums for College Singers. He graduated with an Associate of Arts degree in Agriculture in 1978.
He then attended Colorado State University, where he graduated with a bachelor's degree in 1980.
His first professional job was as a field representative for Sterling Production Credit Association in Yuma (which later became Premier Farm Credit). Over the next 22 years Bob rose through the ranks to become Vice President of Lending and the Yuma Branch Manager. He eventually became President of the First National Bank of Yuma where he was named employee of the year in 2012. In 2013, Bob was named Yuma Market President of First Farm Bank in Yuma. He was also in charge of credit management for the Sterling branch until 2018. He now oversees credit management at the Tribune, Kan. branch.
Bob may be a banker, but he genuinely views his work as the ultimate customer service role. He believes he helps people make things happen.
Bob has been more than generous in his commitment to Northeastern over the years. He served on the NJC Alumni Association Board of Directors as vice president and president; he was a member of the Northeastern Advisory Council from 2011 to 2019 and served as Vice President and President; and last year Bob became a member of the NJC Foundation. Bob serves as the chair of the Yuma Methodist Church Council and is a past president of the Yuma County Economic Development Corporation. His hobbies include riding his Harley Davidson motorcycle, golfing, and playing drums and vocals for the Circuit Breakers Band.
President's Awards
President's Awards are given to persons who have contributed physically, fiscally or both to the Alumni Association and Northeastern. This year's honorees are Dr. Harold Chapel and Dr. Dale and Judy McCall.
Dr. Chapel, President's Award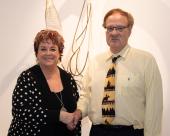 Dr. Harold Chapel spent the first eight years of his life on a turkey ranch north of Stoneham, Colo. After his father passed in 1963 his mother moved them to Greeley, so she could attend the University of Northern Colorado. In 1965, she received her bachelor's degree and moved the family back to Northeast Colorado, where she taught at local elementary schools.
Harold was involved in 4-H, with projects that included electricity, gun safety, woodworking, gardening and veterinary science. At Sterling High School, Harold was a member of band, and the Science and Math Club. He participated in the science fair, the National Honor Society, and lettered in both football and wrestling. He graduated in 1974.
He became an outstanding student at Northeastern, where he received the Jack Petteys Memorial Scholarship. He was a member of the choir and Phi Theta Kappa. He received the Outstanding Chemistry Student Award. He graduated in 1976 with an Associate of Arts degree in science, then subsequently received a Regents Scholarship to attend the University of Colorado. He was a member of Phi Beta Kappa, and graduated with a Bachelor of Arts degree with distinction in 1978. He went on to earn a Doctor of Medicine (M.D.) degree in 1982 from the CU School of Medicine in Denver, and completed his residency at Creighton Affiliated Hospitals in Omaha, Neb. in 1985. He then served a two-year obligation from 1985 to 1987 to the U.S. Public Health Service in internal medicine in Tennessee.
In 1987, he returned to Colorado and maintained a solo internal medicine practice in Brush until 1993, and gained full privileges at Colorado Plains Medical Center in Fort Morgan and East Morgan County Hospital in Brush. He was chief of staff in Brush in 1989 and 1990, where he secured accreditation for a facility that had never been accredited. He developed and became the medical director for a successful cardiac rehabilitation program, and was also medical director of Eben Ezer Lutheran Care Center in Brush from 1987-93.
He developed a keen interest in cardiology while in Brush and had an opportunity to return for a fellowship in 1993 at the University of Tennessee Health Sciences Center in Memphis. Upon finishing his fellowship, he then moved to Waco, Texas. He was based at Hillcrest Baptist Medical Center, where he was active on the Critical Care and Quality Assurance Committees and became the Medical Director for the congestive heart failure clinic until his return to Colorado in 2002. He then practiced general cardiology with special interests in heart failure, nuclear cardiology and rural medicine at clinics and hospitals in Greeley, Loveland and Fort Collins.
In 1994, he was the recipient of the Pathfinder Award by the NJC Alumni Association, of which he became a life member. He was bestowed the Bristol Myers Squibb Cardiology Fellow Honor in 1995. He holds memberships in the American College of Physicians, Fellow American College of Cardiology and the American Society of Nuclear Cardiology.
Dr. Chapel retired from medicine in 2019.
Dr. Dale and Judy McCall, President's Award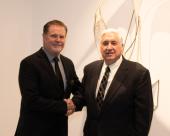 Dr. Dale McCall was raised on a farm south of Yuma, Colo., the second youngest of Arthur and Alice McCall's five sons and four daughters.
He attended the two-room Albarr School through the eighth grade. At Yuma High School, Dale enrolled in Vocational Agriculture and became a member of the local FFA chapter. He was a Star Greenhand, Star Chapter Farmer, received the State Farmer degree, and served as chapter vice president and president. He was also a member of the livestock judging team and the crops judging team that received gold at the state contest, and the range and soil judging team that won gold on the district level. He became chairman of the state parliamentary procedure champion team, and received the chapter livestock proficiency award and the Dekalb award as an outstanding senior.
Dale excelled as a member of the college livestock judging team at Northeastern, and was named Livestock Judge of the Year in 1966. In his sophomore year, he served as president of Associated Student Government. He graduated from Northeastern in 1966. Dale married Judy Korf on June 26, 1966. He transferred to Colorado State University, where he received a bachelor's degree and was an honors graduate in the College of Agriculture in 1968. Dale returned to CSU to earn a master's degree in vocational education administration and supervision in 1972. Dale earned his doctorate in vocational administration and supervision at CSU in 1982.
Dale's professional career spans 51 years across several secondary and postsecondary educational institutions, including his time as an Animal Science instructor and Livestock Judging Coach at Northeastern from 1974-1975. He served in many capacities at agricultural and educational associations in Colorado. Dr. McCall most recently served as the executive director of the Colorado BOCES Association from 2007-2019, and held positions of vice president and president of Rocky Mountain Farmers Union since 2011. Throughout his career Dale was exceptionally active on important regional and community boards and committees throughout Northeastern Colorado. 
Dr. McCall is the recipient of numerous awards and honors including:  Roy Brubacher Award – Colorado BOCES Association 2001 and 2006, Northeastern Junior College Agriculture Hall of Fame – 2001, Colorado Agriculture Hall of Fame, Colorado State University Agriculture and Resource Economics Hall of Fame and Honored Alumnus, Honorary Chapter – State and American FFA Degree, Outstanding Service Award – Colorado State Council on Vocational Education and numerous others.
For 25 years, Judy McCall served as an administrative assistant for the Vocational Student Organizations at the State Board for Community Colleges and Occupational Education. She was recognized with numerous awards from SBCCOE and was honored as Classified Employee of the Year in 1999.
Three generations of the McCall family have graduated from Northeastern, including Dale, his son Tim and late wife Liz, grandson Robert and his wife Kelsey and granddaughter Mary Kate. The McCall family has owned and operated 320 acres of irrigated farmland and 1,650 acres of dryland acreage near Yuma since 1975. Dale's son Tim, grandson Robert and Robert's spouse Kelsey continue to manage the operations.
Dr. McCall was a member of the NJC Alumni Association Board of Directors from 2003 to 2009 and served terms on the board as vice president and president. He is a recipient of the Northeastern Pathfinder Award (1989) and the Service Award (2010).  Dale and Judy (who passed away in April of 2019), have graciously sponsored the NJC Alumni Association Awards Luncheon for the past ten years. Their commitment of support for Northeastern has been passionately demonstrated by both, personally and financially for many storied years.
View All News
Submit a Story