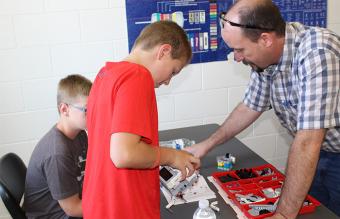 The Northeastern Junior College (NJC) Foundation announced today it has received a $10,000 grant from Xcel Energy Foundation to provide youth courses in the wind and automotive repair careers. For over 40 years, NJC has been supplying career training to the areas youth to help get them excited about technical programs.
"We rely on support from community and corporate partners such as Xcel Energy," said Jason Hazlett, the director of renewable energy at NJC. "This funding helps us to provide the Wind Kids College for 5th to 8th graders, an introductory vehicle maintenance and repair course for 8th to 10th graders, and an electrical and hydraulic course for 9th through 12th graders." Though the courses are geared toward middle and high school students, our goal is to interest the students in a technical field and give them skills that could help them pursue a technical career.
"It was cool. My favorite part was flying the drones…and we got to take them home!" stated Wyatt Buckley, a participant of the 2017 Wind Kids College.
With the help of this grant, NJC expects to serve 65 area students in the Youth Plus Skills Equals Success program this up coming year.
Xcel Energy Foundation's grant is part of the company's corporate giving Economic Sustainability focus area, which supports nonprofit organizations like the NJC Foundation to promote workforce development and economic self-sufficiency.
"We value the well-rounded partnership we have with NJC because it's important to us that our reach extends beyond providing just financial support to our community partners," said Kynnie Martin, senior foundation representative.  
In addition to the grant, Xcel Energy employees support NJC by serving on the NJC Wind Advisory committee to help guide the program to ensure current industry standards are being met.
"Our employees are committed to the students' success in the program, and enjoy being able to guide the program to ensure current industry standards are being fulfilled. It's a win-win for everyone." Said Kynnie.­
View All News
Submit a Story