Winter Ensemble Concert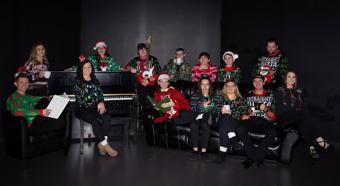 It's a musical extravaganza!  Join us for the Winter Ensemble Concert featuring the Concert Choir, Concert Band, Contemporary Choir, and Jazz Band, Saturday, Dec. 7 at 7 p.m. in the Dorothy J. Corsberg Theater in E.S. French Hall.  Come hear everything from traditional choral music to funky, jazz versions of holiday favorites that will make you boogie in your seat! FREE to all students and staff.  Just $5 for community members!
This concert is the highlight of the semester for Northeastern's four outstanding music ensembles.
Come hear the Concert Choir's polish and musicality while they perform Danny Boy and Caroling, Caroling. The Concert Band will tickle you with Pixar Movie Favorites and Jingle Bells Forever . The Contemporary Choir will keep the variety going with music from top artists from the 70s to Hark the Herald Angels Sing. The jazz band will wow you with their Big Band Christmas and finish the night with a Hurricane!
This concert is always a ton of fun and has something to please everyone!
Join us for a great night of music with the Northeastern Music and Recording Program!
Dorothy J. Corsberg Theater in E.S. French Hall
Contact Person
Celeste Delgado-Pelton
Contact Phone
970-521-6754
Event Sponsor(s)
Northeastern Music and Recording
Cost
FREE to NJC students and staff, $5 for community members