Opening Reception for Prints on the Plains: A Front Range Invitational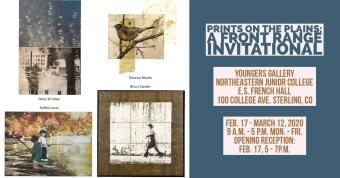 In association with the Sterling Creative District, Northeastern Junior College and Mo'Print, the Peter L. Youngers Fine Arts Gallery is exhibiting a collection of printmaking artists from the Front Range area of Colorado, showcasing an array of approaches in contemporary printmaking.
Featuring the work of Vanessa Martin, Kathie Lucas, Bruce Zander and Harry W. Utter.
The Youngers Gallery is located in E.S. French Hall on campus.
Gallery hours: Monday-Friday 9 a.m. to 4 p.m.
The exhibit will be on view Feb. 17 to March 12, 2020.
Peter L. Youngers Fine Arts Gallery, E.S. French Hall
Contact Person
William Ross
Contact Phone
970-521-6710