Leave a Lasting Legacy - Farm/Ranch Estate & Succession Planning Seminar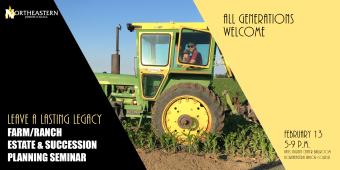 Many farm and ranch families struggle with the many questions surrounding the transfer of their property to the next generation. How can I be fair to all the kids? Who will take over running this place? Who will take care of me in my last years, months, and days? What can I do to help my passing be easier on those left behind?

Sensitive issues, such as money, death, and family relations are difficult issues to discuss or talk about in any depth. It is hard to approach these issues calmly when there are strong feelings about what is important. Some people avoid discussing these subjects because they believe it to be disrespectful and uncomfortable.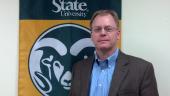 Northeastern Junior College's Agriculture Business Management Program (ABM) is hosting Jeff Tranel from Colorado State University Extension on Feb. 13 from 6-9 p.m. in the Hays Student Center Ballroom at Northeastern to help farm and ranch families find some answers to these and many other questions. A meal will be served from 5-6 p.m. prior to the seminar.

We encourage all generations to attend this valuable seminar. Registration is $40/person or $30/person for two or more registrants from the same group. Registration deadline is Feb. 6.
Click here to register today!

For more information contact Emily Mollohan at 970-521-6762 or Emily.mollohan@njc.edu.

The event is sponsored by Bank of Colorado, Big Iron Autions, First FarmBank, Premier Farm Credit, Gordon Insurance Agency, Keller Law LLC, Wright Law Firm LLC, Sterling Federal Credit Union, Kellogg-Ewing-Leavitt Insurance Agency Inc.
Hays Student Center Ballroom
Contact Person
Emily Mollohan
Contact Phone
970-521-6762
Event Sponsor(s)
Agriculture Business Management Program
Cost
$40 per person or $30 per person for 2 or more registrants from the same group.