Annie's Project Level 1 Course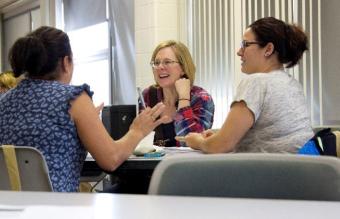 Annie's Project is a six-week course that is a discussion-based workshop bringing women together to learn from experts in production, financial management, human resources, marketing and the legal field. There's plenty of time for questions, sharing, reacting and connecting with presenters and fellow participants. It's a relaxed, fun and dynamic way to learn, grow and meet other farm and ranch women.
Whether new or experienced, understanding the five areas of agricultural risk, knowing how to analyze agricultural spreadsheets and other necessary skills are vital.  Learning them in a friendly environment where questions and discussion are welcomed, allow the learning process to flourish.
Annie's Project courses have successfully reached more than 9,000 farm and ranch women in 33 states. In January, Annie's Project program will be offered at Northeastern Junior College's Yuma campus from 6-9 p.m. on Tuesdays beginning Jan. 21 and runs through Feb. 25.
With the support of a United States Risk Management (RMA) grant and our local sponsors, Premier Farm Credit, Bank of Colorado, TBK Bank, Farmers State Bank and First FarmBank, this 18-hour course is very affordable. The cost for the course is $60 per person, which includes a workbook and support materials for all sessions. A light supper will be served before each class at 5:45 p.m. Course size is limited to 20 participants, so please register soon.  
Contact Person
Emily Mollohan
Contact Phone
970-521-6762
Event Sponsor(s)
Adult and Community Education and Agriculture Business Management